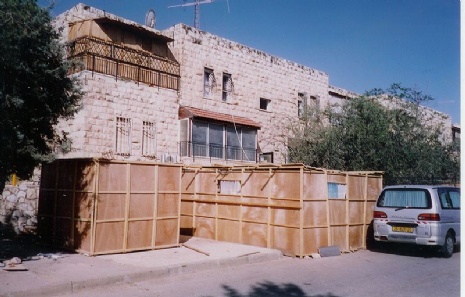 That's right - it ain't over till it's over. Whether you joined us for Yom Kippur or went elsewhere, or even if you didn't go anywhere at all, if you thought that the High Holidays ended with Yom Kippur, think again! This Sunday night begins Sukkot and what was able to be spiritually accomplished over Rosh Hashanah and Yom Kippur is still able to be accomplished, only now with added joy!

Now, if you're like so many Jewish people I know, you're probably wondering: more!? I barely made it through Rosh Hashanah and Yom Kippur!? Now you want me to celebrate another Jewish holiday?

On Rosh Hashanah we accept Hashem as Master of the universe and on Yom Kippur we atone for any misdeeds over the past year. What else is there left to do? What do we hope to accomplish on Sukkot?

In one word: Integration. Integration of our lofty ideals into our daily life.

You see, on Rosh Hashanah and Yom Kippur we spend many hours in prayer, enveloped in holiness; distancing ourselves from the distractions and realities of the outside world. We may even be inspired to make some positive change in our life. But then the holidays are over, reality sets in and we realize that we're just where we started. How do we bridge the gap from our lofty ideals to literal implementation?

The answer is Sukkot.

Sukkot is not just an afterthought on the High Holidays, it's not just another Jewish holiday; Sukkot is huge. Sukkot is quite literally about shifting our very perception of reality.

During Sukkot we move from the permanent structure of our home to the temporary Sukkah. We very tangibly remind ourselves of the true source of permanence in our life, Hashem.

Why are our ideals difficult to implement when they meet the reality of our lives? Because we tend to look at our lives and the stuff they're made of as "permanent." There are social norms and constructs that we "have to" adhere to and "we can't just ignore."

When we celebrate Sukkot we internalize the concept that in fact Hashem is the most "permanent" in this world. Suddenly it's not difficult to align our lives with that permanence - the difficulty only surfaces when we feel that our lives are the permanent feature. We can't imagine how we can connect the two - Hashem and our life. But when we realize that all reality is actually part of, and one with, Hashem, nothing can interfere with implementing these ideals.

The key then, to the entire High Holidays experience, is to properly celebrate Sukkot. I hope you will join us!